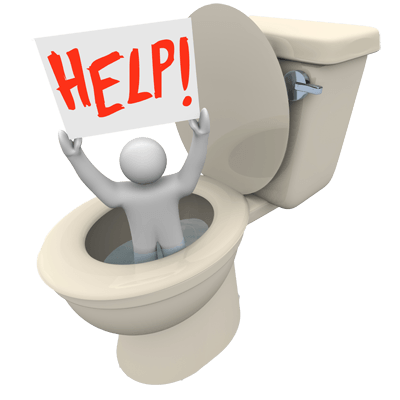 A pretty common issue that homeowners deal with is a toilet with low water levels.  It is not an immediate problem, but it can make your bathroom experience irritating.  It can also cause a bit of embarrassment if you have visitors that use the toilet in question.  Toilets that aren't filling correctly typically are quick fixes.  So if you are up to the challenge here is a quick plumbing fix tip from Blue Planet Drains & Plumbing.
Low Toilet Water Levels Fix
Before you inspect your toilet to assess what to fix, grab a couple of latex gloves so that you can stay clean.  Toilets can get you sick if you are not careful.
Inspect the Tank.  Behind the bowl of your toilet is a water reservoir which is commonly referred to as a tank.  Typically the lid can be lifted off (you may want to place this somewhere safe so it doesn't fall since it can break).  The water level should be near the top of the tank.  If it is not, make an adjustment to the lever that holds the float ball.
Check the Flapper.  Inside the tank at the bottom is a flapper that allows water to fill the tank.  Sometimes the seal around this flapper is worn.  This results in a slow leak in the tank which may contribute to water levels in the towel bowl to fluctuate.  If you find that you need to replace the flapper, shut off the water to the toilet and remove the flapper.  Take it with you to a local hardware store so you can get a matching flapper.
Check the Chain.  This is a chain that runs from the flapper to the level.  Over time the chain may break, get kinked up, or somehow get removed from either the lever or the flapper.  Make whatever adjustment is necessary.  If you need to replace the chain, take it with you to the hardware store to get the right length.
If you find that you have a larger problem, or you cannot seem to get your toilet working correctly, feel free to contact us.  Blue Planet Drains & Plumbing maintains an A+ rating with the Better Business Bureau (BBB), is a member of the Plumbing Heating Cooling Contractors Association of San Diego and is licensed with the CSLB.  For service, contact us at:
(858) 914-4696 San Diego Area
(619) 780-2524 South County
(760) 561-5517 North County