Need Hydro Jetting Service? 24/7 Immediate Response! (858) 914-4696
24/7 Hydro Jetting Services for San Diego County.
We provide fast response commercial and residential hydro jetting services to all San Diego 24 hours a day 7 days a week.  Blue Planet Plumbing and Drains specializes in clearing tough clogs. That means no matter how bad your drains are clogging we have the equipment and the expertise to clear it. Our commercial grade hydro jet machines are perfect for restaurants and retail locations where the sludge and grease tends to accumulate the most. Our compact hydro jetting systems are a great solution for residential hydro jetting tasks.
Why Use Hydro Jetting?
Sometimes sewer pipes can be extremely clogged by debris or even root systems that have invaded your plumbing. In such circumstances, we use hydro jetting to get your plumbing free of blockages that traditional techniques can not clear. Take a look at how it works.
Hydro Jetting 101
A hydro jet is designed spray multiple streams in a way that breaks up and clears severe blockages. Once a hydro jet is in inserted into a pipe, its nozzle spins while simultaneously spraying high-powered streams of water (up to 3,500 psi) in multiple directions. Blue Planet plumbers have found that it is very effective in scrubbing piping completely clear of sand, dirt, grease, roots, and various debris. Because drainage systems are designed to allow gravity to carry items downstream, we typically use hydro jets at the downstream end so that debris can flow out instead of inside of your place.
How We Access Your Plumbing Downstream
Nearly every plumbing system has an access point known to plumbers as "cleanouts". As the name suggests, the cleanout allows us to safely clear your plumbing of stubborn clogs. Our hydro jetting equipment is capable of clearing several hundreds of feet of pipe.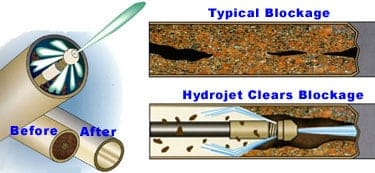 Added Service
Whenever it is necessary for us to use hydro jetting, we offer our customers a free camera inspection. This allows us to make sure that the blockage is complete clear. It also allows us to see if a root system invasion is minor or severe. In cases that it is, we can take other measure to significantly reduce the likelihood of future clogs.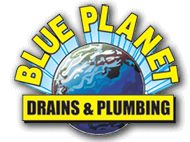 Blue Planet Drain & Plumbing is a fully licensed and certified plumbing service in the San Diego community. We provide 24/7 fast response hydro jetting services to all San Diego, Carlsbad, Chula Vista, Coronado, Del Mar, El Cajon, Encinitas, Escondido, Imperial Beach, La Mesa, Lemon Grove, National City, Oceanside, Poway, San Diego, San Marcos, Santee, Solana Beach and Vista California.