Free In-Home No Obligation Estimates! (858) 914-4696
Blue Planet Plumbing in Bonita, California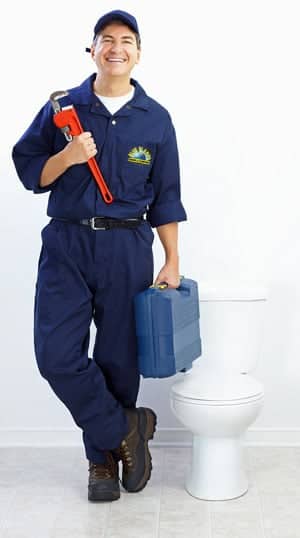 Are you looking for a truly professional local plumber in or around Bonita, California?  You can count on Blue Planet for expert prompt and courteous services.  Our emergency services are at the ready 24/7 throughout San Diego County.  Whether you need drain cleaning, sewer cleaning, hidden leak detection, or slab leak repair, just give us a call — anytime.
In addition to residential plumbing services, we're experts in commercial plumbing and plumbing maintenance for restaurants, large retail stores, office complexes, business parks, and more.  Household names like local McDonald's locations trust and depend on us.  We're licensed and insured, and follow all applicable codes and regulations.
Our staff includes master plumbers as well as drain technicians.  Blue Planet respects you and your property.  We'll take the time to discuss the problem and present all viable options.  While working we'll protect your floors, and clean up after ourselves when we're done.  So call us for eco-conscious plumbing services; we guarantee your satisfaction.
Our Bonita Local Plumber Services
Don't neglect a plumbing problem.  Leaks and clogs rarely fix themselves, and almost always get worse with time.  That's especially true for hidden plumbing leaks; by the time you know that you have a problem water damage may already be well underway.
Drain Cleaning and Sewer Cleaning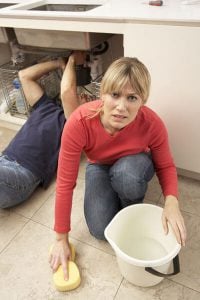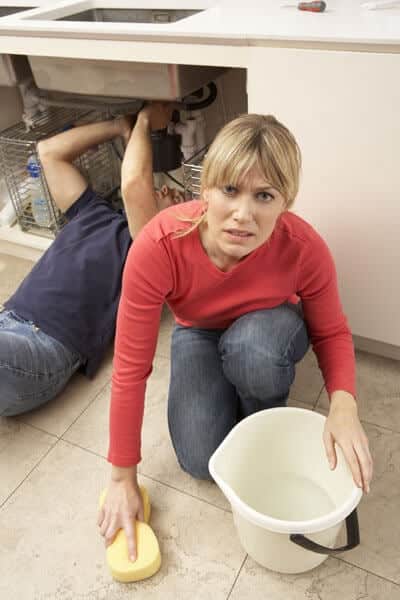 Whatever your plumbing problem, including backed up sinks and toilets, we'll discuss it with you over the phone to make sure that we send out the right expert.  When you need residential or commercial drain cleaning, remember that lye and acid based solutions can indeed harm your pipes.  So save time and trouble and call us right from the start.
We're specialists in home kitchens and business facilities that involve food preparation or clean-up.  Clogs caused by fats, oils, and grease in drain pipes and sewer lines can be particularly tough, with cabling (snaking) providing only temporary relief for kitchen and laundry room clogs.  Our powerful hydro jetting equipment provides thorough sewer and drain cleaning, blasting out every last bit of grease and grime.
If all of your fixtures are affected, you probably need sewer cleaning.  We'll start with an in-sewer video camera inspection so that there's no guesswork concerning the location and nature of any and all sewer line  problems.  Hydro jetting can clear fine tree roots, and often avoids expensive repair or replacement costs.
Leak Detection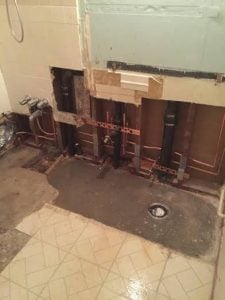 We provide preventive pressure testing as part of our commercial maintenance packages, and perform sensitive leak detection tests for homes as well.
Plumbing problems can be hidden inside walls, above the ceiling, under the floor, and underground.  Although unseen, they lead to odors, mold and other health hazards, and even building damage.  You may notice a damp or warm spot in your home, a wet or extra-green area outdoors, or simply an unexplained jump in your water bill.  With the potential for expensive damage, you need professional licensed electronic leak detection from Blue Planet.
Don't let anyone start cutting into walls or breaking up concrete looking for the problem.  Our electronic gear can pinpoint the location, and save you unnecessary restoration expenses.
Slab Leak Repair
Like most of Southern California, most homes and commercial buildings in Bonita have concrete "slab on grade" construction for the first floor.  Often pipes are routed under that concrete , making detection and slab leak repair especially difficult.  Worse still, the resulting flow of water can erode soil under the building leading to uneven settling and in turn cracked floors and ceilings.
We provide several types of slab leak repair.  In some instances a spot repair, breaking through the floor to fix the pipe at one particular location is the best solution.  In other cases, particularly if you have older old galvanized pipes which eventually corrode, re-piping is a better solution.  We run new pipes around the outside of the concrete for many, many trouble-free years ahead.  Your choices include copper pipes and modern "Pex" that is completely non-corrosive, quieter, and has been the standard for the last decade.
Bonita California Lives Up to Its Name
Nestled between San Diego proper, National City, and Chula Vista, "Bonita" is Spanish for "beautiful."  Founded in 1884, by 2010 the community had grown to 12,538 residents and covered a 5-mile stretch of the Sweetwater River.  Despite many housing tract developments in the 60s, 70s, 80s (as well as state and interstate highways) Bonita still has abundant wildlife nearby, at least for now.