Sewer Cleaning and Replacement San Diego
We are available and ready to clear the drain and sewer at your bathtub, shower, bathroom and kitchen sinks, laundry or main sewer line. We service all San Diego County 24 hours a day 7 days a week. Our trucks are fully equipped and our technicians are highly trained master plumbers that are experts in sewer replacement and sewer cleaning. We stand behind our work 100%, and if there is any aspect of the job we have done for you that is not to your satisfaction, we will fix it.
Sewer Camera Inspection

Today's advanced technology helped take the guess work out of locating sewer and drain problems. We use sewer cameras that have the ability to locate the exact place of the repair. If you are having a sewer blockage problem our technicians will insert a CCTV camera to your pipes and track it down to find the exact location of the problem. The camera will transmit the images and where there is a sign of blockage it can record the exact location to help us give an accurate estimate on proper repairs.
This process compared to the traditional sewer line diagnostics which is manual and can be destructive is the best method for locating sewer blockage, cracks caused by tree roots, faulty sewer line installation or any other sewer related problems
Our Sewer Cleaning and Sewer Replacement Services Include
Inspections and diagnosis

Sewer Repair

Sewer Line Inspection

Sewer Replacement

New drain and sewer installations

Repairs and replacements

Root intrusions

Hydro jetting

Sewer pipe replacement
Hydro Jetting Sewer Lines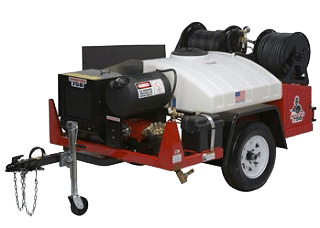 Sewer problems are frustrating and stressful for the homeowners. Sewer cleaning or sewer line replacement must be handled by a fully licensed plumber that has the right equipment and experience to handle the repairs. Of course a lot of general contractors and handymen may claim to have the knowledge to do the repairs but when it comes to replacing your sewer you want to go with someone that can get job done right the first time. If you've ever dealt with a backed up sewer line, you know how rapidly it can become a significant problem. It is a stinky, unhealthy scenario and unfortunately, it is not one that you can ignore. If your house is on slab, you might not have access to the main sewer line. This is where hydro jetting will be remarkably valuable.
How to Find the Right Plumber
Ensure you choose a plumber that is licensed, bonded, and insured.
You want a professional who is aware of the complexities of sewer lines, including the various materials used to manufacture them. A few of the older sewer lines are manufactured from cast iron or clay. These need to eventually be replaced with current PVC lines. This type will last much longer and it's much simpler to maintain and repair them.
Extra Sewer Services
There are a number of extra services that you may have need for. Depending on how long it has been since your last maintenance service, you may identify that you have more issues than you realized. It is best to remain on a regular maintenance program with your plumber in order to reduce the possibility of future problems.
Identifying Sewer Problems
Sewer problems are usually caused by lack of drainage of water. Sometimes the signs are not that apparent. Here are a few conditions that might indicate that you have a sewer problem.
Water Damage
If you have water damage to your foundation it might be caused by a leak in sewer line that is seeping water through the foundation.
Smells and Odors
If you notice strange odors in or outside your house it might be caused by a problem in your sewer line.
Slow Drainage.
If your sink or tub is draining slowly after using various methods of cleaning and snakes it might be an indication of a sewer line problem.
Toilet Water Levels
If your water level in your toilet is changing drastically from low to overflow. It might be a sign of sewer problem. Our Technicians are standing by to answer your emergency or your questions 24 hours a day 7 days a week.