San Diego County Emergency Plumbing Services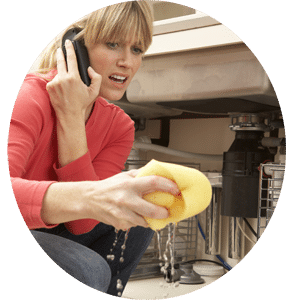 Do you need an emergency plumber in San Diego? Plumbing emergencies can really disturb your life. A water pipe is leaking fast and quickly spreading, but it's 3 a.m.! What can you do? Give Blue Planet a call immediately. We are available 24 hours a day, 7 days a weeks and we handle all sorts of plumbing emergencies in San Diego county. When you call, we'll help you mitigate the situation while simultaneously dispatching our closest plumber to you. Help is on the way!
No Problem is Too Large for Blue Planet Master Plumbers
Remaining calm is the first step of  handling any emergency situation. Our emergency plumbers are also master plumbers, so they can handle any plumbing emergency like James Bond calm, cool and efficient. Your plumbing problem may look overwhelming; nevertheless, it is not impossible to fix. Our staff has decades of experience and have the knowledge to address all plumbing emergencies.
We have successfully handled:
Cracked/broken pipes repairs and replacements
Faucet repair & replacements
Leak detection & slab leak repairs
Water heater repairs & replacements
Drain cleanings
Toilet repairs & replacements and assorted plumbing issues
A plumbing emergency is never too large for us to handle. As we fix the problem, we'll let you know what caused the issue and gives you options to prevent future problems from occurring.
OUR CREDENTIALS
Fixing plumbing problems can only be rightfully termed "fixed" if they are corrected in the right way. We take our craft very seriously and have acquired several certifications related to our industry. For instance, we are a local member of the Plumbing Heating Cooling Contractors Association of San Diego.
We maintain our license with the California Contractors State Licensing Board. Additionally, Blue Planet is a A+ rated business with the Better Business Bureau and has excellent reviews on Google Plus, Yelp, Mercantile Circle, Yellow Pages, Yahoo!, and other review sites.
If you have a plumbing emergency anywhere in San Diego county at anytime of the day or night call us as soon as possible. We will walk you through how to minimize damage while we send an emergency plumber to you. No matter what time it is, we are ready to help.
We provide 24/7 emergency plumbing services to all San Diego County. Call (858) 914-4696 to schedule service.