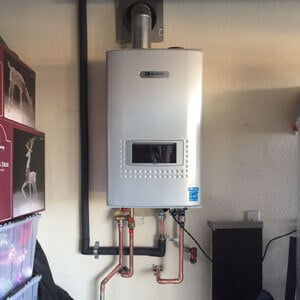 Back in 2015, the U.S. Department of Energy put into place a new standard for residential water heating systems.  The efficiency requirement increases will result in an estimated $63 billion in energy billing savings across America between 2015 – 2044.  If you are a homeowner and need to upgrade your water heater, you should seriously consider taking advantage of this unique opportunity.  The team at Blue Planet Drains & Plumbing
What It Means for Consumers
Homeowners who are in the market for new water heaters may want to compare newer models that reflect the change in standard.  Some current models exceed even the updated standards, but their price may drop as other models appear on the market.  As the upgrade date approaches, the customer can look forward to sales and promotions that can be coupled with rebates and tax incentives.
What It Means for Manufacturers
The new standards are forcing water heater manufacturers to scrap obsolete models and embrace more efficient technologies.  Manufacturers that are forward thinking have R&D departments that continue to push efficiency to higher levels.  Higher governmental standards ultimately raise the standards of energy efficiency, which also lowers the price of advanced technologies as they begin to be mass produced.
What It Means for Water Heater Service Providers
Newer and more advanced water heating system technologies will require knowledgeable technicians.  No one would hire an out-of-date mechanic to fix a modern car.  Hence, we constantly keep our technicians abreast of upcoming technologies and train them on the latest service methods.  Any respectable water heater professional will need to do the same.
The new residential water heater standard is very good the economy and ecology of America.  If you have questions about the different types of water heater models available or the new rules, feel free to contact us.  Blue Planet Drains & Plumbing is full-service plumber focused on providing outstanding plumbing services to every client.  We provide water heater repair, drain cleaning, slab leak repair, leak detection, and water heater installation.