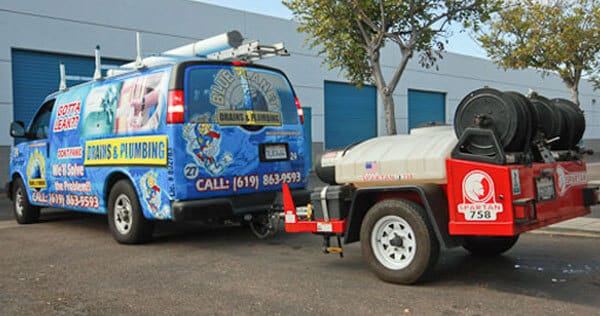 Are you dealing with a drain that is clogged?  Have you tried conventional methods of unclogging it, but to no avail?  There are some circumstances where plumbing pipes can become severely obstructed.    
Some drains and toilet clogs are a bit more challenging to unclog than others.  When we come across jobs that require more than conventional drain cleaning, our technicians may opt to use hydro jetting.  Before any plumber tells you that hydro jetting is necessary, you should understand why.  
Hydro Jetting—Useful When Needed
Applying hydro jetting to every is akin to using a hammer for every carpentry job.  Hydro jetting is a tool that is useful in certain situations.  Additionally, the plumber should verify with a video inspection camera before using this option.  Why?  Hydro jetting is best for situations where:
Its effectiveness is maximized, and
Plumbing pipes are in good condition.
Without having a visual of the blockage cause and the integrity of the plumbing, the user could cause considerable amounts of damage.  Blue Planet Drains & Plumbing always follows protocols to validate the use of hydro jetting.
How Does Hydro Jetting Work?
By pressurizing water, hydro jetting equipment can push more than 20 gallons of water per minute at more than 3,000 pounds per square inch (PSI).  The powerful jet stream dislodges clogs of all types, including:
Hair clogs
Grease stoppages
Mineral buildups

 

Miscellaneous objects
Tree Roots
With the amount of power available via hydro jetting, as mentioned before, caution must be exercised to prevent personal injury or damage to pipes.  In most occasions, hydro jetting is performed through a plumbing system's cleanout.  A plumbing cleanout is almost always designed into a plumbing system to provide access to remove debris and clogs.  
Blue Planet Drains & Plumbing Hydro Jetting
Although hydro jetting is an effective way of clearing pipes of debris, it is the most aggressive type of drain cleaning.  Blue Planet Drains & Plumbing reserves this method for severe clogs.  As stated above, we only use hydro jetting after performing a video inspection of the problem.  Currently, we offer free camera inspections with every drain cleaning.  If you are facing a plumbing clog that is giving you trouble, give our team a call today.