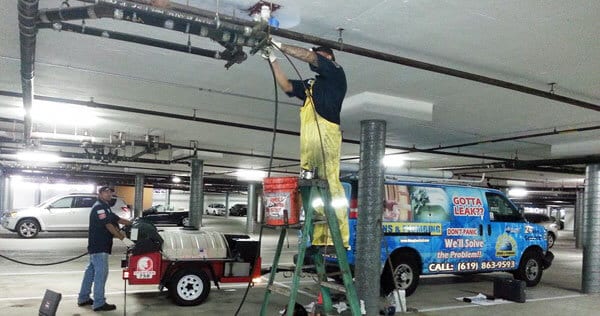 Apartment, townhome, and condominium property managers face continual challenges with running and maintaining their properties.  One major challenge is a property's water system.  Unlike other commercial systems, plumbing problems can easily effect several residents when they occur.  Even small problems like a plugged drain or overflowing toilet can result in water damage to residences that are adjacent or below.  Hence, one of the most important lessons that every property manager should know is: how to secure a great plumbing service.
Fast Response
When plumbing issues arise, you'll definitely want your chosen plumbing contractor to respond quickly.  Fast response is important for two main reasons.  First, the faster that you resolve a major plumbing issue, the less the damage that occurs.  The damage that we are talking about is the damage to your reputation as a manager.  The longer you wait for a plumbing fix, the more frustrated your residents will become.  In fact, one of the main precursors of late rent payments is a lack of general maintenance, especially plumbing maintenance.
Guaranteed Service
Hiring a handy man to take care of your plumbing problems could result in several problems.  But one question that can help you to avoid falling into the trap of cheap service is: Can the contractor guarantee their service?  If the answer is no, then you hiring decision should be obvious.  When you are dealing with a large property, your reputation matters.  Potential renters are constantly searching the internet for reviews about properties and their management.  What people say that live at your property means a lot in the eyes of newcomers.
The plumbing team at Blue Planet Drains & Plumbing has worked with several apartment complexes, HOAs, and multi-family residences.  We continually render commercial services to the communities of Bonita, Del Mar, Carlsbad, Chula Vista, Encinitas, La Jolla, Lakeside, Oceanside, Poway, Rancho Bernardo, and Rancho Santa Fe, California. Call (858) 914-4696 today to get a quote.