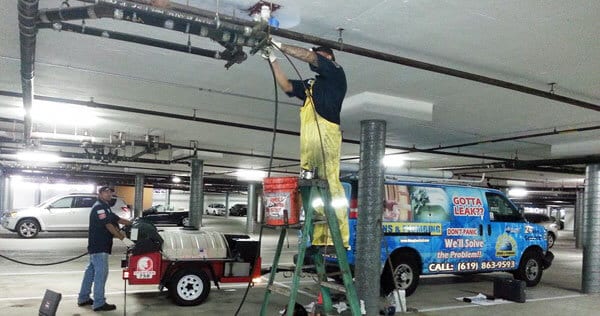 Learning as you go may work for certain problems.  However, when you are facing a plumbing issue, it is best to have an experienced hand on deck.  A trial 'by water' can be a costly one that ultimately causes more problems beyond plumbing. At Blue Planet Drains & Plumbing, we've seen a number of DIY and handyman plumbing fiascos that we've been called to clean up.
Experience is a teacher, but it can be a harsh one.  Let's look at a couple of reasons why you may want to check the experience level of a plumber before you agree to let him or her begin a job.
Saving Time
Simply put experience save time.  When you ask a plumber to come out, it is usually expected that the problem will be fixed quickly.  Even with the right knowledge, a lack of experience can cause an amateur plumber to second guess the right choice and proceed overly cautiously.  Some plumbing services never tell you that they have sent a non-experienced plumber to your home or business.  Under California contracting law, an experienced plumber (known as a journeyman plumber) must have at least 4 years of working practice to attain the journeyman qualification.  Everyone plumber should have a start but in the company of an experienced mentor.  Sometimes a plumbing service will send out an apprentice alone if they are undermanned or feel that the job is easy enough.  The additional time taken to fix the problem could cost you heavily.
Saving Money
If time is money, then mistakes cost money.  An inexperienced plumber's mistakes can cost you in the long run.  There have been occasions where additional broken items have come about by the mistakes of an unknowing apprentice plumber.  Before a job ensues, most experienced plumbers can let you know upfront of possible problems that may be unseen until the plumbing is exposed.
Are you experiencing a plumbing problem that would be better suited for an experienced professional?  Instead of taking chances, give our team at Blue Planet Drains & Plumbing a call.  We offer fast, honest, and transparent service.  Before we fix the issue, we'll let you know exactly what the problem is, the reason why we recommend a certain solution, and an estimate of the cost.
(858) 914-4696 San Diego Area
(619) 780-2524 South County
(760) 561-5517 North County