Electronic Leak Detection Services in San Diego County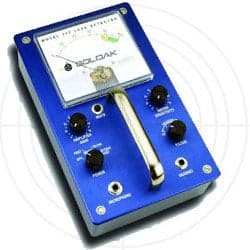 If you suspect a leak in your property before you try any costly repairs you should contact our San Diego leak detection experts. Our Master Plumbers are experts at finding leaks in walls, ceilings and in slabs. Using the latest leak detection equipment we will locate all the leaks in your home or business without damaging your property. We use electronic leak detection for locating leaks on underground water lines.
Water leaks can result in mold, water damage, structural damage and odors. High utility bills are usually a good indication that you might have an underground leak. It is imperative to have a professional, licensed leak detection specialist to assess the damage and locate the leak so it does not end up in costly repairs.
Think you may have of leak but you can't seem to find a sign of moisture anywhere?  Is you water bill higher than normal and you can't figure out why?  Or are you finding water spots that are not around any visible leaking pipes?  Most likely, you have a water leak that is in a hidden area.  Finding it could be costly.  Before you cut into walls or break up concrete, give Blue Planet a call.  We have better solutions.
Pipe Locating
Our trained master plumbers can locate any pipe via a wire transmission on the piping system.  After the system is properly wired, they will use a pipe locator and find exactly where a covered pipe runs.  This process greatly speeds up leak detection.
Electronic Leak Detection
Next, our plumbers will listen to the length of the pipe in question with our electronic detection devices.  As they gather readings they will be able to pinpoint the exact location of the leak.  In some cases (where there are deep pipes or highly insulated ones) carbon dioxide is pumped into pipes to amplify the sound.
Full Disclosure
Certain types of leaks can require extensive repairs (like slab leak repairs).  As we discover the nature of the leak, we will keep you informed of the options available to you.  We always recommend our customers to locate probable ground pipe leaks due to their propensity to cause foundation structural damages.  Blue Planet is a fully licensed and insured plumbing service.
For us finding a leak is simple.  Allow us to show you exactly where it is, so you can rest easier. Blue Planet Drain & Plumbing has served the community for years as a residential and commercial plumber.  Our services are available 24 hours a day, 7 days a week.  Feel free to call us if you have questions or concerns.
Thomas T. La Jolla, CA

I just had my drains replaced. It wasn't cheap but I think that the price was fair. Blue Planet finished the entire job in two days and the people were great. It was a pleasure to have them working in our home. Many thanks to Anthony and his crew. I would recommend these guys.

Estean H. Lenyoun

Mr. Miguel Cuevo
It was great speaking with you on Friday about the exceptional service offered by Rene and Joshua on January 7th at my home in la Jolla. As a businessman like yourself, we realize that the pace of the leader is the pace of the pack.
Well Miguel my friend – you are running a good Race at a great Pace. I will send an envelope with a couple of gift cards to thank Rene and Joshua, but know the important of recognition the guys will get from you after receiving this correspondence and I wanted to thank you and the guys before too much time slips by.
Please give Rene and Joshua my Thanks one again and thank Blue Planet for the integrity and excellence you have ignite in your team..
Miguel, well done my friend.
P.S. Laura, was most helpful and provided Excellent customer service as well.
Peace & Blessing to you, yours & your company.
Estean H. Lenyoun , Partner
Director of Urban Redevelopment

Brian F. San Diego

Blue Planet did a great job with my water heater! I would definatly recommend these guys, my water heater stopped working right before my family came into town and these guys fixed it same day and for a lot less than I thought. I've also used them to fix my drain and they unclogged it in less than 30. Definitely call them!

Miss Fancy Z. San Diego

Really great service and fast! They came and got the job done while being respectful of our home. I'm not sure how much the service cost because I'm a renter, but the service was great and I'd use them in the future.

Eric B. Chula Vista, CA

Blue Planet Plumbing is an awesome company with outstanding customer service. We had a complicated sink issue and received a very reasonable quote on a Friday. While trying to fix it between youth sports events on a Saturday, we ran into difficulties and needed to replace the entire faucet. We called them at 1:00 pm on a Saturday and they were there by 4:00 pm, replaced the faucet in two and a half hours at the same competitive rate. Their tech was terrific and very professional - he came back the following Tuesday and conducted a free home inspection for other areas like the hot water heater and other plumbing systems in the house. These guys don't advertise like the big San Diego plumbing companies, but they're twice as good at half the cost.

Pete C. San Diego, CA

A few weeks ago we had a drain problem which caused a mini flood. We had another plumber sent out by my land lady and he supposedly "fixed" the problem. About a week and a half later we had another mini flood.We again called our land lady and she asked if we wanted the same plumber.I was like "heck no!" Not sure where she found this company but they were tons more professional.He explained the problem in a way my wife and i both understood.He even explained (without trying to make the other plumber look bad) why the other fix did not work. Not sure on prices because that was done on my landlady's end. When i was an apartment manager we used a variety of other plumbers. Blue Planet ranks pretty good with the others Ive used. I would definitely recommend them.

Janja W. Vista, CA

They were the only plumber in Chula Vista, who was able to come right away to my moms house to fix her drain/ plumbing issue. Miguel from Blue Planet Drains & Plumbing has been terrific. He got the job done very fast and I was able to use the online-coupon to save some money on her plumbing bill. I highly recommend Blue Planet Drains & Plumbing! If you are in Chula Vista or any of the other service areas, make sure you hire them! It's worth it. Thanks, Miguel.

Chris L. La Mesa

I was using another plumber for my rental properties in Eastlake and always had a heck of a time getting them out for the appointment, plus they acted like I was bothering them. How delighted I was to find Blue Planet Plumbing. They are very responsive, they do a good job, their people are nice and they actually appreciate my business. With 4 rentals, each now over 12 years old I'm sure they will be getting a lot of my business.

Tina K. San Diego

Hector at Blue Planet is awesome! He came out to give an estimate for an unknown leak and did such a good job explaining everything that we went ahead and had him do the repairs. He was super patient and even took the time to explain how to fix small things ourselves. When there was a misunderstanding over the work order, he went ahead and took care of the problem. We will definitely ask for him the next time we have a plumbing problem!

Aron W. Chula Vista

I looked on Yelp and found Blue Planet Drains & Plumbing and gave them a call... I am so glad I did. They advised they were very busy but they could have someone at our house by 3:00pm. The Service Technician (Marco Valdouinos) showed up at our house shortly before 3:00pm and was extremely professional and courteous. He explained in detail what needed to be done to fix the leak and what it would cost. He was very open about their cost structure so I did not feel as though we were getting cheated or anything.

Kassie Lira

Very quick and professional company great customer service. I will continue using this company and will recommend this company anytime.

Bob Burlingame

Just nice clean-cut guys that seemed to know what they were talking about, very(very) competitive pricing(I checked around), All is well with my re-piping and grateful that we finally have great water pressure.

Pamela D. El Cajon, CA

SIMPLY AMAZING!!  I had them out twice now and I cannot say enough from their same day call 1 hr tech to my house, to super fast efficient work!!  Marco and Joe both deserve a HUGE 5 stars for amazing customer service, no price gouging and superior work!!  Love this company will use only these folks for my plumbing needs!!

Kevin D. San Diego, CA

Very quick and professional service.  Once I discovered my hot water tank had ruptured, they were at my house and had it replaced that afternoon!  I figured I could buy a tank at Home Depot for less, but with all of the extra parts and installation, it wasn't worth the time and hassle.   It was worth the money for the convenience.

John M. Solana Beach, CA

I am very pleased with the service and quality I received from Blue Planet. Marco was the epitome of a professional and took the time to explain everything in detail before starting repairs. I was impressed with the attention to detail and the finishing touches of everything lining up symmetrically and placed with the thoughtfulness and care of an artist at his craft. You don't often see that kind of dedication and attention these days